Overview
Nora Project, Durango, Mexico
100% interest
Epithermal veins, high gold, silver, copper, lead and zinc values
Potential for disseminated gold-silver-base metal mineralization
200 km northwest of city of Durango
Good access and infrastructure
Centrally located within the major silver, gold, base metal trend running through the high plateau are of central Durango State
Close to operating mines – Endeavour Silver Guanacevi, Excellon Platosa, Argonaut Gold El Castillo and San Agustin
Close to major deposits - La Pitarrilla, El Cairo etc.
Evidence of historical mining activity
Vein samples returned up to 5.29 g/t gold, 514 g/t silver, 1.14% copper, 9.27% lead and 3.28% zinc
Elevated silver, base metal and pathfinder values over an area of 3 km by 2 km surrounding the veins
2020 Diamond Drill Program
The 2020 diamond drill program for a total of 1,744 metres in eight drill holes was the first drill program on the Nora project. Six drill holes tested silver-gold-copper-zinc-lead targets on the Candy vein along a strike distance of 500 metres. The Candy vein is exposed in discontinuous outcrops for over 900 metres, with the fault structure hosting the vein traced for a distance of over 3 km. Drill sites formed four sections, all below high-grade silver and gold samples from vein outcrops and rock dumps from earlier underground development. While the Candy vein has not been previously drilled, there has been some historical small-scale mining. Waste dumps from prior mining activity contain well-mineralized high-grade material. Four of the planned holes, located on two sections, were targeted immediately below the historical workings. Two other drill holes targeted high grade gold outcrops 200 metres and 300 metres respectively north of the workings. Results from the six drill holes completed on the candy vein are detailed in the table below together with values from surface samples above the drill holes for reference. The high-grade gold and silver values returned from the drill program, particularly drill holes NRC-20-04 and NRC-20-06, are extremely encouraging and exceed expectations from a first drill program at the Nora project.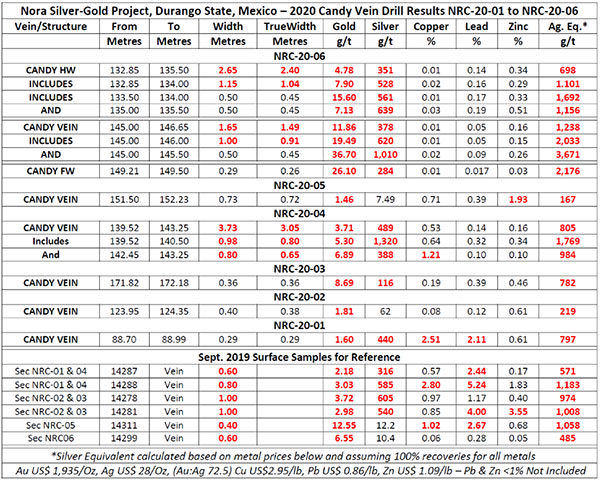 Two drill holes tested the Nora vein, a second high level epithermal vein outcrop 600 metres northeast of the Candy vein with a parallel north-south strike. Drill holes NRN-20-07 and NRN-20-08 did not return significant silver-gold assay values and were interpreted as being in the higher levels of the system. The Nora vein structure remains a priority target.
Soil Geochemical Anomalies Targets – January 2021
Systematic grid soil sampling, including over 1,200 soil samples taken at 50-metre intervals along 2-Km east-west grid lines with 100-metre north-south spacing over a 3-Km extent covering the central zone of the project area, returned widespread silver, gold, copper, zinc and lead geochemical anomalies coincident with pathfinder minerals including arsenic, antimony, bismuth, cadmium, molybdenum and mercury. Of particular note is the generally elevated gold geochemical signature over the entire project area, and the large areas of silver geochemical anomalies observed throughout the project area. The gold and silver anomalies are particularly strong over the 3-Km strike extent of the Candy vein on the western side of the project area, as well as surrounding and south of the Nora vein to the north-east of the project area. A particularly strong silver and gold anomaly extends for 1.5 Km southwest from the location of the above high grade drill intercepts on the Candy vein. The following targets are identified as high priority targets for future exploration, as shown on the geochemical anomaly maps below:
Candy vein high-grade silver-gold zone, along strike to the north and south, and between and below drill holes NRC-20-01 to NRC-20-06.
1.5 Km Candy vein southwest silver and gold anomaly with potential for high-grade vein style mineralization as well as disseminated bulk tonnage mineralization.
Candy vein north-south silver-gold anomaly with over 3 Km strike extent for high-grade vein style and disseminated silver-gold mineralization.
Large multiple silver-gold anomalies located to the east of the project area extending up to and surrounding the Nora vein over an area of 2 km by 1.5 Km.
Breccia targets such as Cerro Los Torunos located in the southwest of the project area for bulk tonnage disseminated silver-gold mineralization.
Select the map below to view a full set of geochemical anomaly maps including Ag, Au, Cu, Zn, Pb, As, Sb, Bi, Cd, Mo, Hg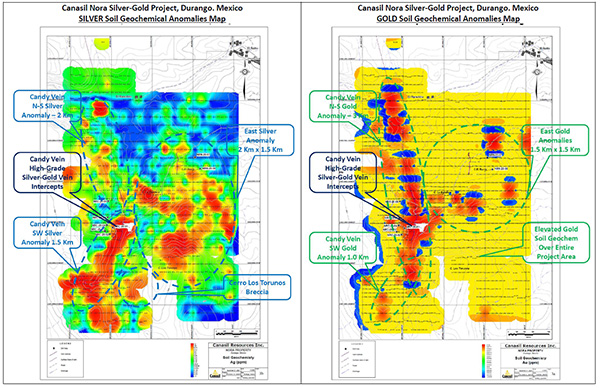 Claims and Location:
The 100% owned Nora project is located approximately 200 km north-west of the City of Durango, close to the municipalities of Tepehuanes. Santiago Papsquiaro and Santa Maria del Oro. The project is centrally located within the "Silver Belt" of the Mexican High Plateau region on a trend running from the northwest to the southeast through Durango State. The project area has good access and infrastructure, within two hours driving distance from the city of Durango.
Mineralization:
There are two principal vein outcrops at the Nora project, on one of which there is evidence of historical mining activity. It is estimated that approximately 10,000 tonnes of ore may have been mined from the Candy vein using a number of inclined shafts and a 230 metre cross-cut tunnel. This vein can be traced for approximately 750 metres on surface, with the structure visible with discontinuous outcrops for over 3 km along strike. The vein has widths of between 0.5 metres to 2.0 metres, and surface samples from this vein returned significant gold, silver, copper, zinc and lead values (see below). The second Nora vein is found 600 metres northeast of the Candy vein, and can be traced for 230 metres along strike with widths of over 9.0 metres. Samples from this vein contained trace sulphides and there is no evidence of historical workings at the Nora vein. Several large areas surrounding these veins returned significant anomalous silver and base metal values in stream sediment and soil samples.
Surface Sampling and Mapping:
Rock chip samples collected by Canasil in 2006 from the Candy and Nora veins and nearby dumps returned significant gold, silver, copper, lead and zinc values as shown in the table below. The average grade of 10 samples collected from the Candy vein was 1.35 g/t Au, 89 g/t Ag, 0.39% Cu, 2.16% Pb and 0.65% Zn. The average grades of 4 samples from the Candy vein dumps returned 1.89 g/t Au, 136 g/t Ag, 0.72% Cu, 5.59% Pb and 1.04% Zn.
In a 2009 surface sampling program, 1,000 soil samples were collected along a grid covering the the area surrounding the Candy and Nora veins and projected extensions over an area of 3 km by 2 km. The results showed elevated silver, base metal (Cu, Pb and Zn) and pathfinder (Mo and As) values over a large area, coinciding with extensions of the Candy vein as well as a number of the topographic features called Cerro La Bandera and Cerro Los Torunos. The combination of the vein outcrops with large areas of anomalous silver and base metal values in soil samples may indicate and association with rhyolite intrusive activity representing leakage from a much larger buried mineral system at depth. This should be investigated with further detailed mapping and sampling, geophysical surveys and diamond drilling.
Canasil Resources Inc. - NORA Project, Durango, Mexico – Veins and Dumps Sampling Map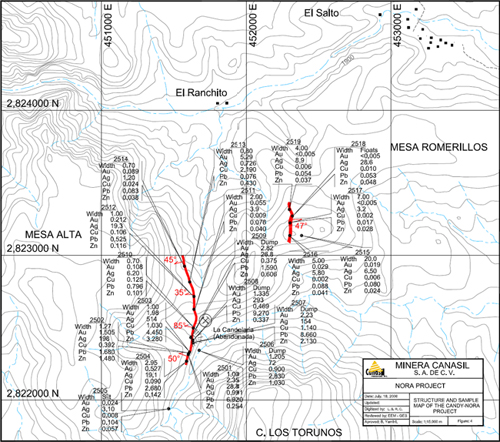 Canasil Resources Inc. - NORA Project, Durango, Mexico – Vein and Dump Samples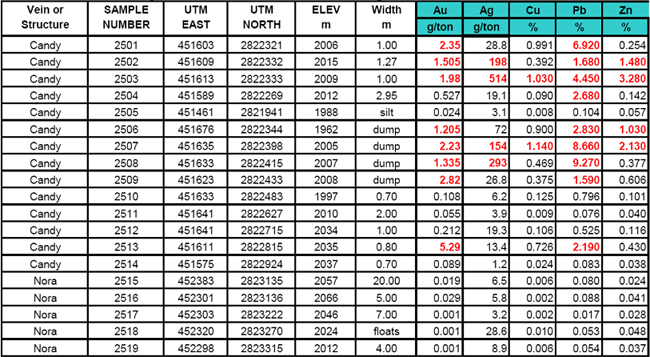 Canasil Resources Inc. - NORA Project, Durango, Mexico – Silver Soil Geochemistry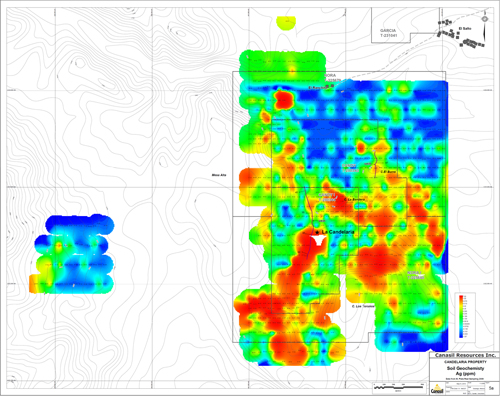 Canasil Resources Inc. - NORA Project, Durango, Mexico - Location
Canasil Resources Inc. - NORA Project, Durango, Mexico
| | |
| --- | --- |
| | |
| | Iron oxide, argyllic alteration on northern extension of Candy vein |