Canasil holds a 100% interest in six projects located in the Durango and Zacatecas States of Mexico. The projects are situated within the prolific 'Mexican Silver Belt' that runs northwest to southeast through these states. All projects are easily accessible from Durango City where Canasil operates its local exploration office and core facilities. Infrastructure, climate and topography in the region provide favourable conditions for exploration and development. Canasil also holds a 2% NSR on Pan American Silver's interest in the Sandra project in Durango State.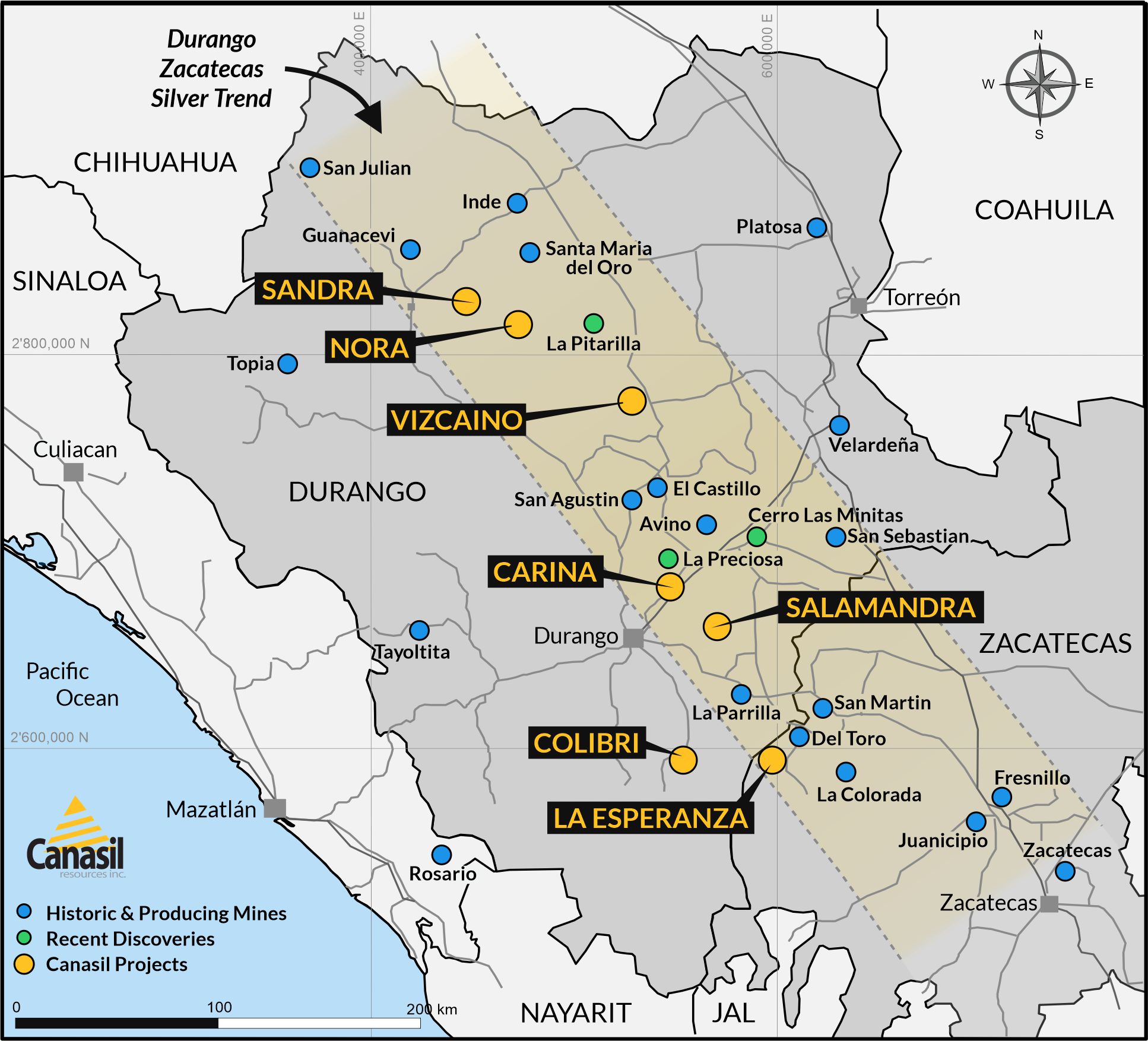 Silver-gold-zinc-lead, series of high-grade epithermal veins over a 15 km by 7.5 km area
Potential for deeper skarn system below the epithermal veins
Comprehensive exploration programs including 11,500 m drilling in 44 drill holes to date intersecting wide high-grade silver-gold intercepts from the La Esperanza vein
Silver-gold-copper-zinc-lead, high-grade epithermal vein, extensive geochemical anomalies - 2020 drilling returned significant silver-gold intercepts from the Candy vein, exposed at surface over 900 m and traced over 3 km strike
Widespread surface geochemical anomalies indicate potential for disseminated bulk tonnage mineralization
Silver-copper-zinc-lead, epithermal mineralization and skarn replacement system Comprehensive exploration programs including 18,000 m of drilling in 35 drill holes returning silver-zinc-copper intercepts
Gold-silver, high-level epithermal vein
Wide vein outcrops return anomalous gold-silver values increasing at lower elevations
Gold-silver, multiple low sulphidation veins, breccias and stockwork
Initial 1,000 m drill program intersected narrow quartz veins carrying anomalous gold and silver values
Silver-copper-zinc, epithermal to mesothermal fault-controlled veins with silver sulphides, and lead and zinc minerals. Initial drill program returned mineralized intercepts from the Linda vein containing copper, silver and zinc.
Silver-gold-copper-zinc-lead, Canasil interest acquired by Pan American Silver Corp. in 2019, Canasil retains a 2% net smelter returns royalty (NSR) interest on Pan American Silver's interest in the project.
Robert F. Brown, P. Eng. Advisor to the Board of Canasil, is the designated Qualified Person for the Company's technical information in accordance with National Instrument 43 101.
Adjacent property information: the reader is cautioned that any technical information provided about adjacent properies is intended for reference purposes only and does not imply that Canasil will obtain similar results from its project.
Details of technical information, including assay results, appearing on the projects pages are included in the Company's respective news releases which may be found under the News Releases section and on SEDAR.