Granite Gold-Silver Project
100% interest in 1,268 hectares
Shear hosted gold-silver prospect
Rock samples returned from 1.99 g/t to 43.88 g/t gold and 9.94 g/t to 546.77 g/t Silver
2,000 metre by 300 metres gold soil anomaly
360 km NW of Prince George, BC
Access via Omineca Mines Access Road
Rock samples returned from 1.99 g/t to 43.88 g/t Gold and 9.94 g/t to 546.77 g/t Silver
2,000m x 300m gold soil anomaly
Further drill testing required
Location
The Granite project is located 360 km NW of Prince George in the Johansson Lake area, Omineca Mining Division of British Columbia. The Omineca Resource Access Road and auxiliary roads provide four-wheel drive access to the property.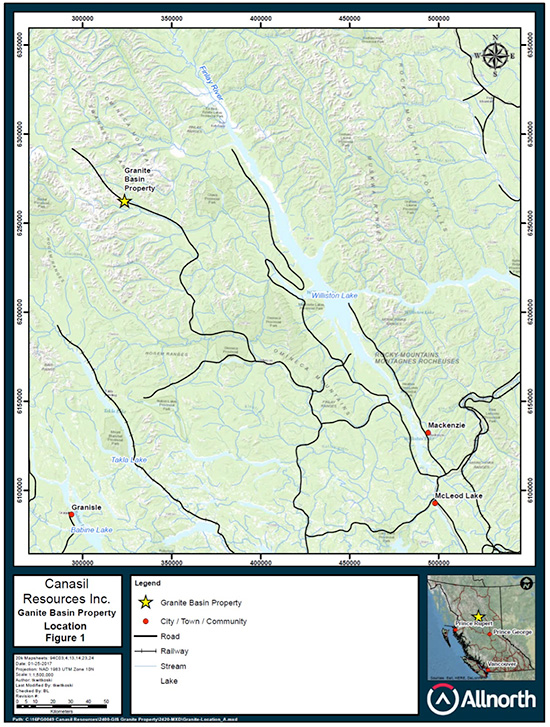 History
Early exploration work done in 1936-1937 by Cominco consisted of hand trenching and underground workings, reporting assays from trenches across widths of as much as 15 m, with grades of up to 10.3 g/t Au across 10 m. The B.C. Department of Mines records indicate sampling in the old underground workings with a grade of 6.86 g/t Au over 12.2 m including 14.4 g/t Au over 3.0 m.
Exploration
Three shear zones with gold/silver mineralization have been identified to date on the property.
Rock sampling results in 1993 returned gold and silver grades ranging from 1.99 g/t to 43.88 g/t Au and 9.94 g/t to 546.77 g/t Ag. Soil and rock geochemistry completed in 1994 outlined a broad 300 m by 2.0 km gold soil anomaly within the auriferous shears in the center of the anomalous area. Rock samples from Zone 1 contained up to 10.7 g/t Au and 14.8 g/t Ag over 0.5 m.
A program of mapping, rock sampling and 190 m diamond drilling in 2 holes was completed by Hemlo Gold Mines Inc. in 1995. Trench sampling within Zone #1 returned assays averaging 6.8 g/t Au over 7.5 m. DD hole 95-2 (88.4 m) intersected Zone 2 with 9.1 m of mineralization averaging 3.36 g/t Au and 11.7 g/t Ag of which 3.1 m showed values of 8.9 g/t Au and 28.4 g/t Ag.
In 1996 further trenching and channel sampling was carried out to test the grades and extent of the previously identified gold-silver anomalous zones. Average gold and silver values from the three mineralized zones ranged between 1.82 g/t to 9.44 g/t Au and 19.87 g/t to 43.10 g/t Ag over widths of 3.0 to 11.0 m. Two grab samples from shear Zone 2 returned 10.22 g/t and 16.99 g/t Au and 274.6 g/t and 492.0 g/t Ag respectively. Chip samples from Zone 3 contained 3.8 g/t Au and 23.0 g/t Ag over 5.0 m.
A 500 m diamond drill program completed by Canasil in 1997 within Zone #1 and #2 intersected several sections with anomalous gold and silver values (best section in GB 97-01 5.0 m with 2.37 g/t Au and 5.85 g/t Ag) however failed to locate sections corresponding in grade to the many samples recovered from these zones.
In 2016 limited prospecting attempted to identify and sample mineralization east and southeast of the old workings. Most of the samples collected were of silicified pyritic and locally sheared fine-grained clastic and intermediate volcanic rocks. The altered rocks returned gold values ranging from less than detection to 7.93 g/t Au (sample GB16-BL03). A helicopter borne magnetics survey was also conducted over the area hosting the main showings, however with limited results because of challenges in flying over the area due to local topography.