La Esperanza, Silver-Gold-Zinc-Lead, Durango and Zacatecas States
100 km SSE of the City of Durango on the border between Durango and Zacatecas States
On the Fresnillo trend, 80 km NW of the Fresnillo Mine and 35 km W of La Colorada Mine
Series of silver-lead-zinc epithermal veins observed over an area 7.5 km by 15 km
Potential for deeper skarn system below epithermal veins
La Esperanza vein mineralization delineated over 525 m and to 350 m depth
Drill highlights at La Esperanza vein include:

10.30 m of 396 g/t Ag, 0.71% Zn and 1.96% Pb (ES-06-05)
7.52 m of 388 g/t Ag, 1.36% Zn and 1.35% Pb (ES-06-04)
1.94 m of 278 g/t Ag, 5.8% Zn and 2.8% Pb (ES12-03)
4.92 m of 257 g/t Ag, 0.64% Zn and 0.63% Pb (ES-17-16)
2.75 m of 2.76 g/t Au, 552 g/t Ag, 1.16% Zn and 0.63% Pb (ES-17-19)

Exploration completed to date: Satellite surveys, Airborne ZTEM survey, surface sampling and several phases of drilling for 11,500 m in 44 holes at La Esperanza, Fatima and San Pasqual veins
Location
La Esperanza silver-zinc-lead project is located 100 km SSE of the city of Durango on the border between Durango and Zacatecas States. The area is well served with power lines, water access and services. The project location is within one of Mexico's premier silver mining centres, hosting prominent silver mines – San Martin-Sabinas mines of Grupo Mexico and Penoles, La Colorada mine of Pan American Silver and La Parrilla and Del Toro mines of First Majestic Silver Corp., approximately 80 km NW of Fresnillo PLC's Fresnillo mine and the MAG Silver/Fresnillo Juanicipio mine.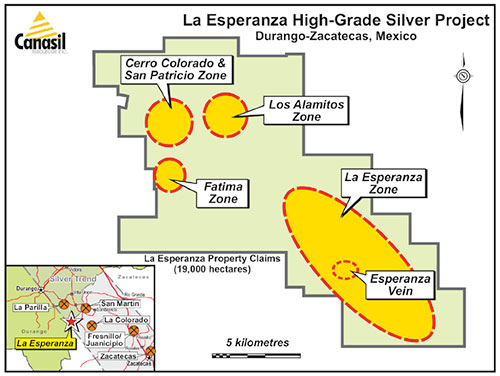 Project Geology and History
The outcropping rocks observed at La Esperanza belong to the Lower Volcanic group of Tertiary age, mainly composed of rhyolites and andesites. A series of silver-lead-zinc epithermal veins are observed over a NW-SE striking zone extending over approximately 15 km within the Lower Volcanic Group. Mineralization occurs in low to intermediate sulphidation veins, primarily striking NW and dipping SW. The main La Esperanza vein is a banded and cockade white to grey quartz breccia epithermal vein with silver, gold, lead and zinc mineralization associated with argentiferous galena, silver sulfosalts and sphalerite. Significant alteration zones are observed along strike extensions of the La Esperanza vein for over 5 km on a NW-SE trend. There has been historical mining at La Esperanza until 1970. Material was reportedly extracted on three levels, using a main access shaft down to a depth of approximately 90 m. The system may be underlain by sedimentary formations which are observed at lower elevations, and indicate potential for possible deeper skarn systems.
Geophysics
ASTER satellite imaging and a 1,330 line-km ZTEM (Z-Axis Tipper Electromagnetic System) helicopter-borne aerial geophysical survey were completed in October 2010. Zones of surface argyllic alteration are coincident with the La Esperanza vein zone, and extensive deep magnetic response may be associated with a deeper intrusive formation.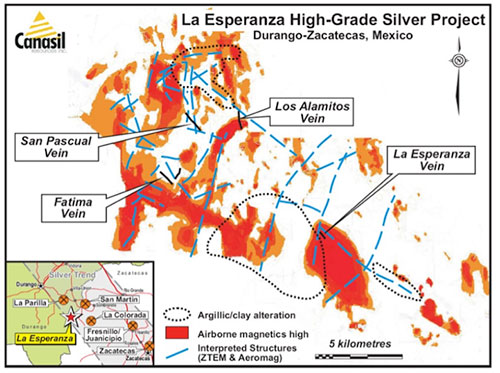 Surface Sampling and Drilling
Surface sampling has been focused on the vein outcrops, returning high-grade silver-zinc-lead results from the five veins identified over the project area. Results of surface samples and initial drill testing from these veins are shown in the map below: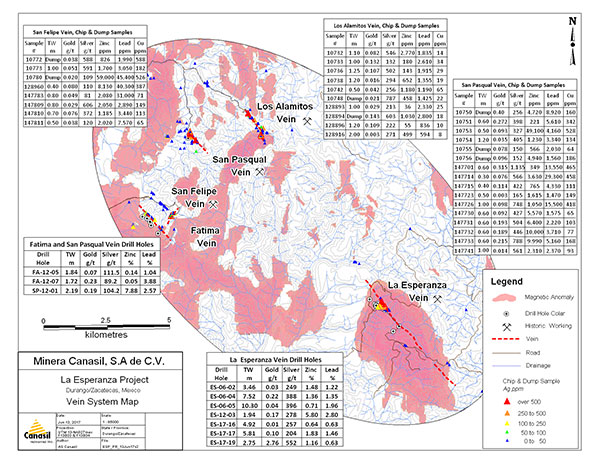 A total of 11,500 m of drilling has been completed in 44 holes in several phases. The drilling has been primarily focused on the La Esperanza vein, in the SE of the project area, with initial drill testing carried out on the Fatima and San Pascual veins in the NW of the project area. Drilling has identified a high-grade silver-gold-zinc-lead mineralized envelope at the la Esperanza vein, extending 525 m along strike and 350 m to depth shown on the plan map and long section below: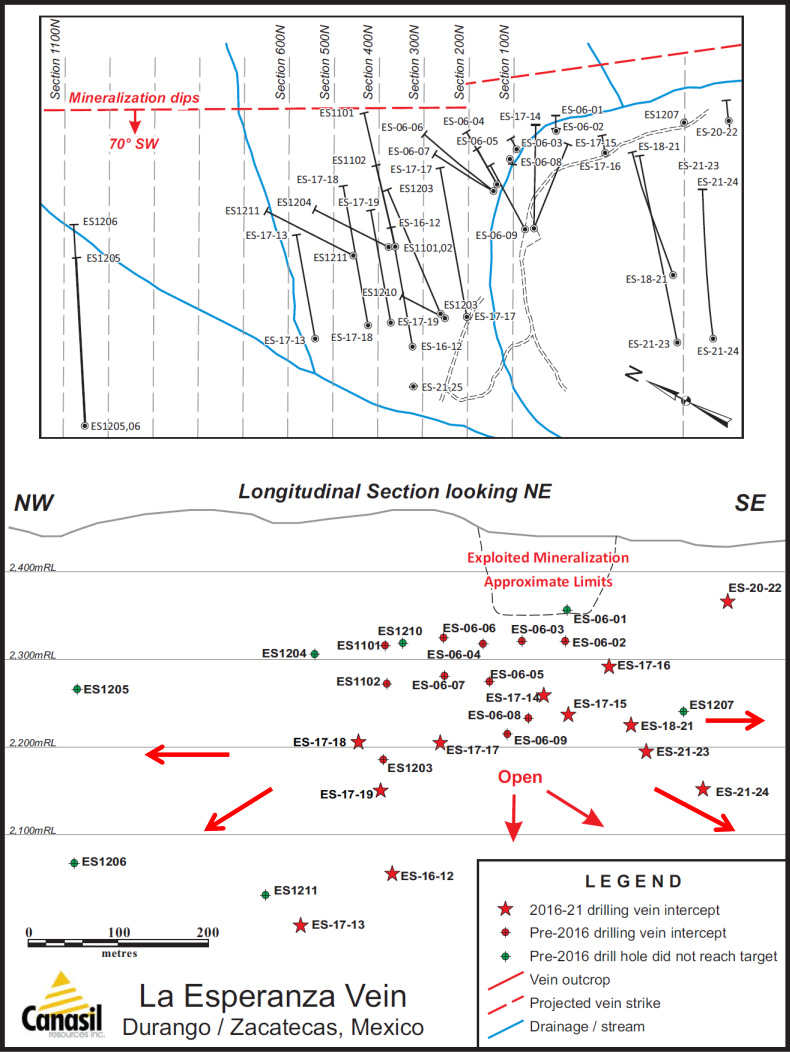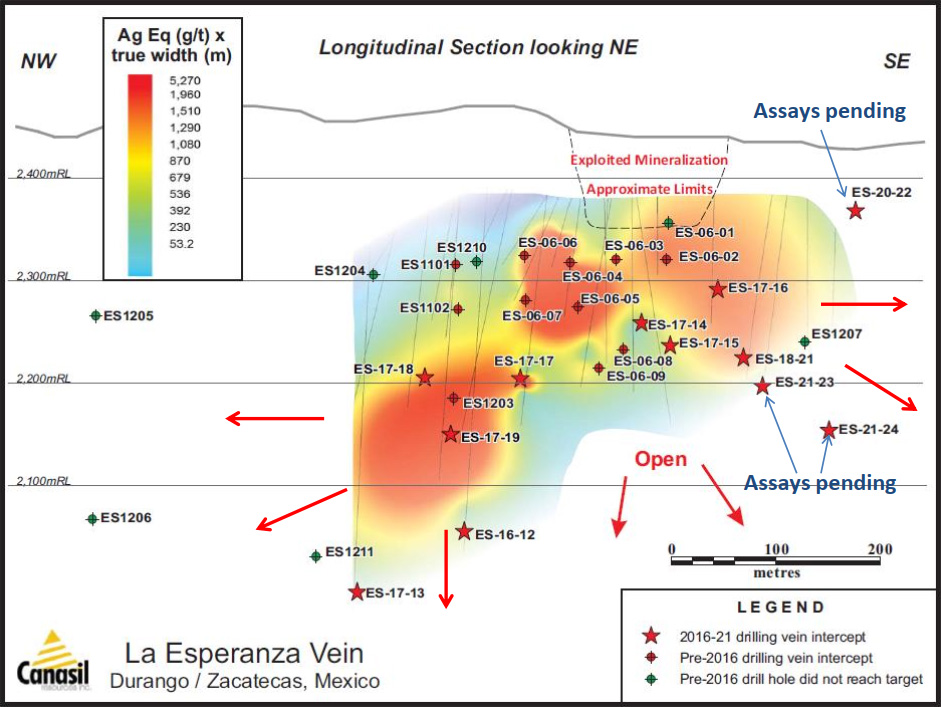 Highlights of drill intercepts to date from the La Esperanza vein are included in the table below: