Salamandra, Silver-Copper-Zinc, Durango State
35 km NE of Durango City
On trend with polymetallic deposits and mines: DSV Cordero, SSV Cerro Las Minitas, SLV La Joya and Grupo Mexico/Penoles San Martin-Sabinas mines
Silver-copper-zinc mineralization identified in surface exploration and drilling
Drill results include:

9.85 m of 102 g/t Ag and 0.55% Zn (SA-07-02)
7.45 m of 50 g/t Ag and 12% Zn (SA-07-02)
7.89 m of 166 g/t Ag, 1.2% Cu, 1.2% Zn and 0.6% Pb, including
2.30 m of 393 g/t Ag, 3.6% Cu, 2.8% Zn and 0.4% Pb (SA-15-15)
16.89 m of 29 g/t Ag and 1.8% Zn (SA-14-14)
810.16 m of 0.6% Zn, including
31.72 m of 3.6% Zn (SA-13-13)

Exploration completed to date: Satellite surveys, Airborne ZTEM survey, ground geophysics, surface sampling and 17,980 m drilling in 35 drill holes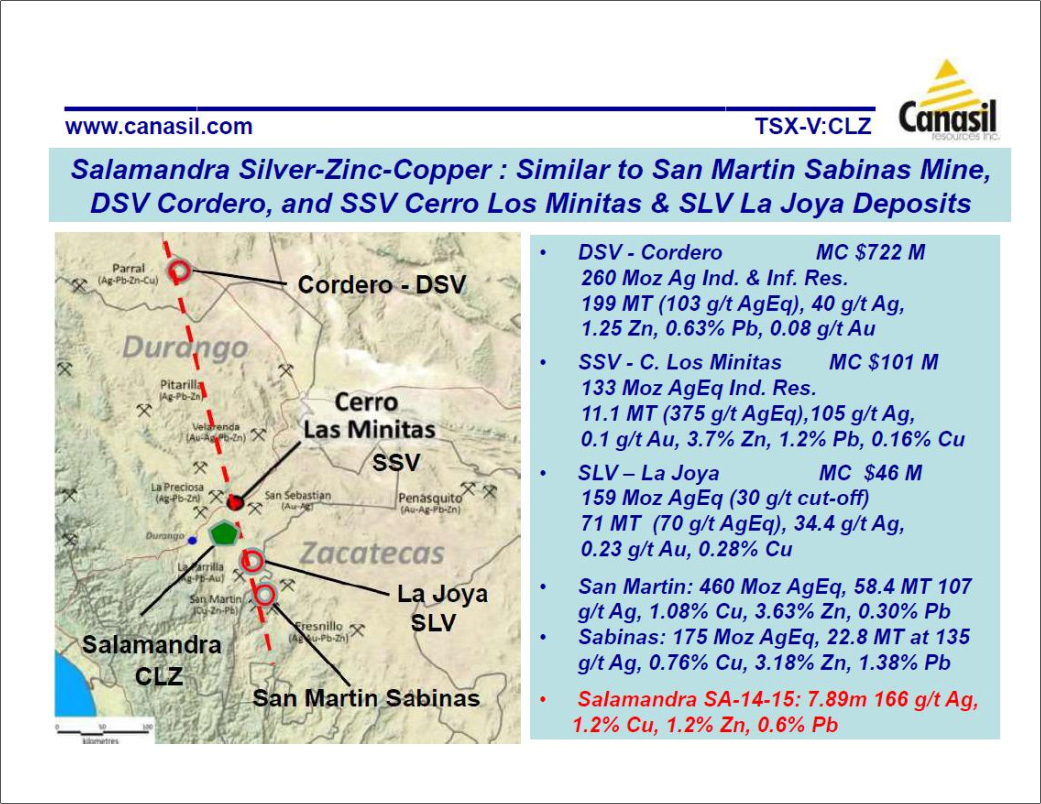 Location
The Salamandra project is located 35 km NE of the city of Durango in Durango State, easily accessible by paved and gravel roads. The project is strategically located within the major silver-gold belt running through Durango and Zacatecas States, and is directly on trend with major operating mines and recent discoveries, particularly large CRD/skarn systems. The project is located on the mineral-rich Fresnillo geologic trend, approximately 80 km NW of and within a similar geologic environment to the San Martin-Sabinas mines, which were among the largest underground silver-copper-zinc mining operations in Mexico, producing in total over 600 MOz AgEq.
Project Geology and History
Salamandra appears to be a typical Mexican Carbonate Replacement/Skarn Deposit. Exploration programs to date at the Salamandra project indicate the potential for a large buried intrusive and carbonate hosted massive sulphide skarn/manto replacement system carrying silver, copper, zinc and lead mineralization. The mineralized system is centered on a main rhyolite dome structure associated with an interpreted intrusive center in the project area.
Prior to Canasil acquiring the project, the area was investigated by the Mexican Geological Survey and by BHP for potential silver and base metal mineralization. There are signs of one or two historical drill holes by BHP on the flank of the rhyolite dome without any records or details from these drill holes.
Grades up to 7.84% zinc and 25 g/t silver over 3.2 m were reported from historical surface sampling along the contact of the rhyolite dome and surrounding basalt cover plain. The mineralization is associated with fault and fracture replacement zones within a thin band of argilically altered and silicified siltstones and inter-bedded limestone along the south-western contact of the rhyolite porphyry intrusive. Check samples taken by Canasil confirmed the positive zinc and silver values reported, with anomalous copper grades.
Drilling
Several phases of drilling have been completed on the project to date for total of 17,980 m in 35 drill holes. Drilling has focused on testing the perimeter of the main rhyolite dome complex and has returned significant silver, copper, zinc and lead intercepts (see maps and table of selected drill results below).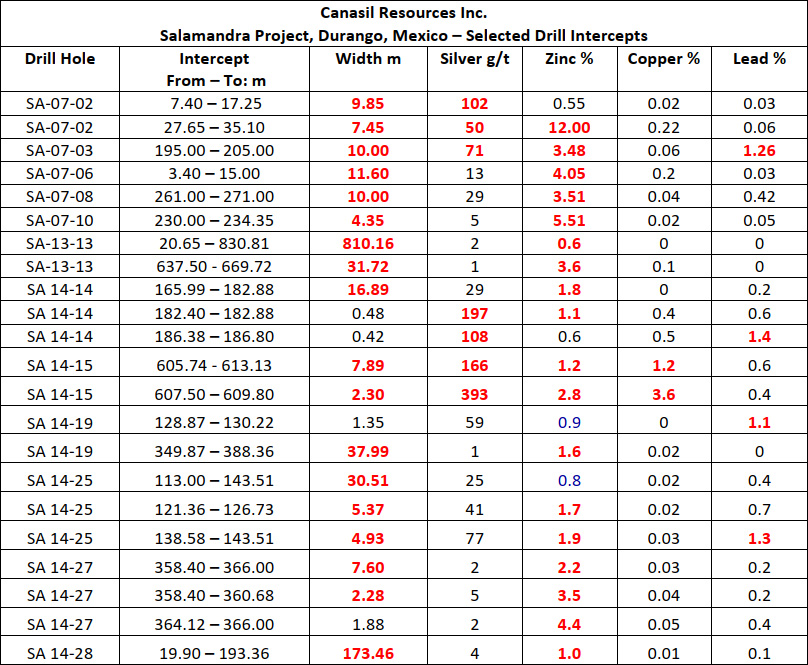 Canasil's initial Phase 1 drilling in 2007 included 12 drill holes for 3,595 m and tested the southwest flank and over the rhyolite dome. The drill program intersected wide zones of calc-silicate skarn with disseminated silver-zinc mineralization and silver-zinc sulphides in structurally controlled breccia zones over a strike distance of 700 m. Silver-zinc mineralization was intersected in eleven of the twelve holes, including:
9.85 m of 102 g/t Ag and 0.55% Zn (SA-07-02)
7.45 m of 50 g/t Ag and 12% Zn (SA-07-02)
10 m of 71 g/t Ag, 3.48% Zn and 1.26% Pb (SA-07-03).
Salamandra Zinc-Silver Project, Durango State, Mexico
Phase 1 Drill Program, Drill Collar Locations on
Surface Zinc Geochemistry and Chargeability Profile at 150 metres depth.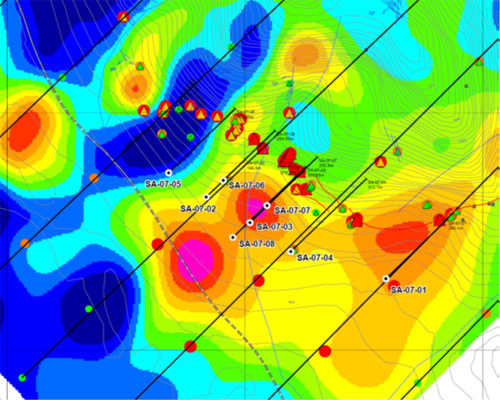 Between 2013 and 2015 three phases of drilling, conducted by MAG Silver Corp. ("MAG") under an option agreement, included 14,382 m in 23 drill holes. The program was designed to develop a better understanding of the scope and size of the system and development of exploration vectors, focusing on targets 200 to 2,000 m from previous drilling. Targets included mineralized intrusive breccias, dike swarms and mineralized structures revealed by detailed geologic mapping, geochemical sampling, and reinterpretation of geophysics. Highlights of these drill programs include the following:
SA-14-15: 7.89 m of 166 g/t Ag, 1.2% Cu, 1.2% Zn, and 0/6% Pb including 2.3 m of 393 g/t Ag, 3.6% Cu, and 2.8% Zn and 0.4% Pb;
SA-13-13: 810 m of 0.6% Zn, including 31.72 m of 3.5% Zn, and including 17.72 m of 5.0% Zn and including several thick zones grading over 1.5% Zn;
SA-14-14 16.89 m of 29 g/t Ag, 1.8% Zn and 0.2% Pb, including 0.48 m of 197 g/t Ag, 0.4% Cu and 1.1% Zn, and 0.42 m of 108 g/t Ag, 0.5% Cu, and 0.6% Zn;
SA-14-20 0.63 m of 258 g/t Ag and 0.27% Cu above 9.9 m grading 2.3% Zn;
SA-14-19, 22, and 24 all cut significant widths of zinc mineralization
SA-14-28, 173.46 m of 1.0% Zn starting 20 m below the surface
Salamandra Zinc-Silver project, Durango State, Mexico
2013 – 2015 Diamond Drill Programs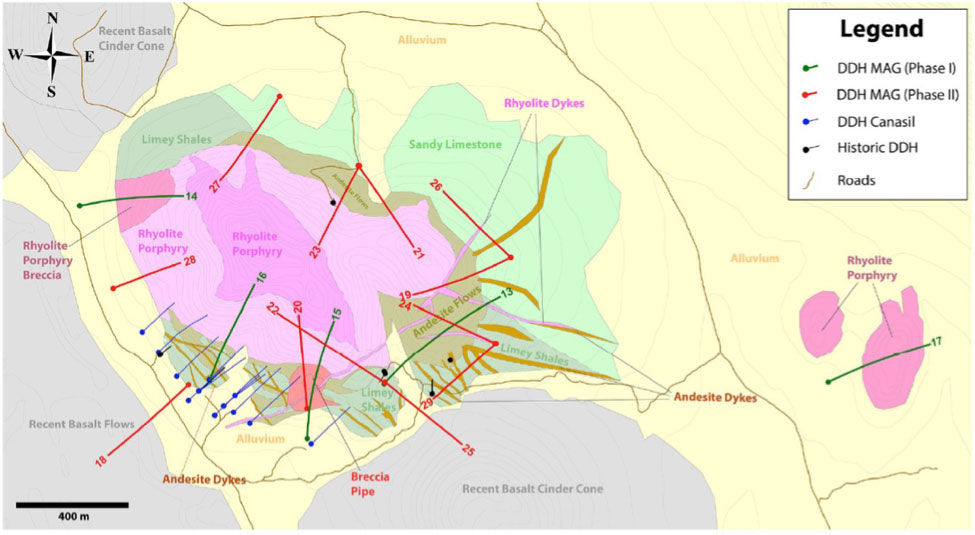 MAG concluded that Salamandra manifests signs of an extensive, complex system with a strong metals endowment. Pervasive zinc mineralization intersected in most of the drill holes, the high-grade silver-copper intercepts and deeper gold and tungsten intercepts indicate the potential for a large metalliferous system at Salamandra. The system remains open for expansion through additional drilling.
Qualified Person, Quality Assurance and Control: The above results were compiled and provided by MAG; for details please refer to the news release dated March 17, 2014, July 21, 2014, and December 17, 2015.
Geophysics
In October 2006, a 3-Dimensional Induced Polarization geophysical survey was completed over an area of 2 km x 1.2 km covering the southwest flank and over the rhyolite dome.
In 2011, a ZTEM airborne geophysical survey was completed over the entire Salamandra project area, covering 120 square km (12,000 hectares) with 617 line-km of survey flights. This survey outlined a large complex response area of 3.5 km by 4.5 km located to the east of the rhyolite dome structure, suggesting the potential for a much larger mineralized system. This area of low resistivity and flat magnetic response was interpreted as an intrusive source, bounded by a north trending large regional fault on the east, and crosscut by several east–west fault zones. Detailed surface sampling over this area led to the discovery of a high-grade vein outcrop carrying 2,150 g/t silver, 5.39% copper, 1.89% zinc over 0.90 m, and areas of silver-copper-zinc-lead-arsenic-antimony anomalies.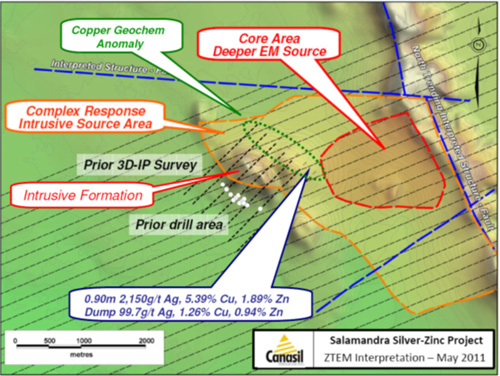 Surface Sampling
Further surface sampling and mapping was completed in 2012. This included the collection of 829 soil samples, 76 rock samples and 44 chip samples covering the ZTEM airborne anomaly, as well as areas surrounding the main rhyolite dome structure associated with an intrusive center. The sample results show widespread silver-copper-antimony-arsenic anomalies with peripheral lead and zinc anomalies. Together with significant silver-zinc intercepts reported from the 2007 drilling to the southwest of the rhyolite dome, and the high grade silver-copper-zinc vein outcrop to the southeast of the dome structure, these geochemical anomalies are interpreted to be related to a buried intrusive and carbonate hosted massive sulphide skarn/manto replacement system under thin alluvial cover below and surrounding the rhyolite flow dome.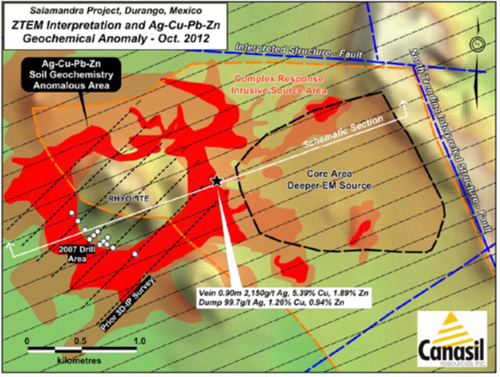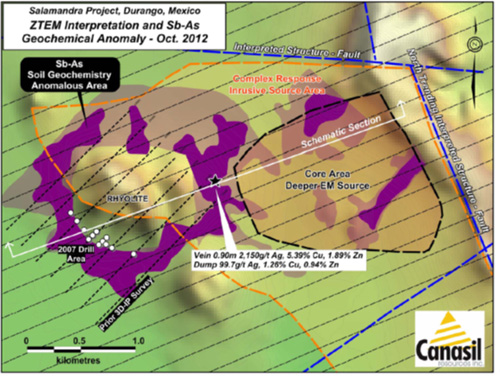 Metallurgical Testing
Initial metallurgical tests have been completed on blends of samples from the 2007 Phase 1 drill program, returning high recoveries to clean concentrates. The metallurgical study included petrographics and ore mineralogy on selected drill core samples.