Colibri, Silver-Gold-Copper-Zinc-Lead, Durango State
70 km SE of Durango
Epithermal-mesothermal veins carrying silver, copper, lead, zinc and gold
Drilling intersected mineralization at the Linda vein. Highlights include:

2.83 m of 3.49% Cu, 98 g/t Ag and 1.96% Zn (Hole CO-07-09)
2.70 m of 2.48% Cu, 63 g/t Ag and 0.12% Zn (Hole CO-07-12)
9.30 m of 1.17% Cu, 33 g/t Ag and 0.10% Zn (Hole CO-07-13)
Surface mapping and sampling
Location
The Colibri project is located 70 km SE of the city of Durango. The climate and topography are moderate and typical of the high plateau areas on the Eastern edge of the Sierra Madre Occidental volcanic province at an elevation of 1,700 m to 2,500 m.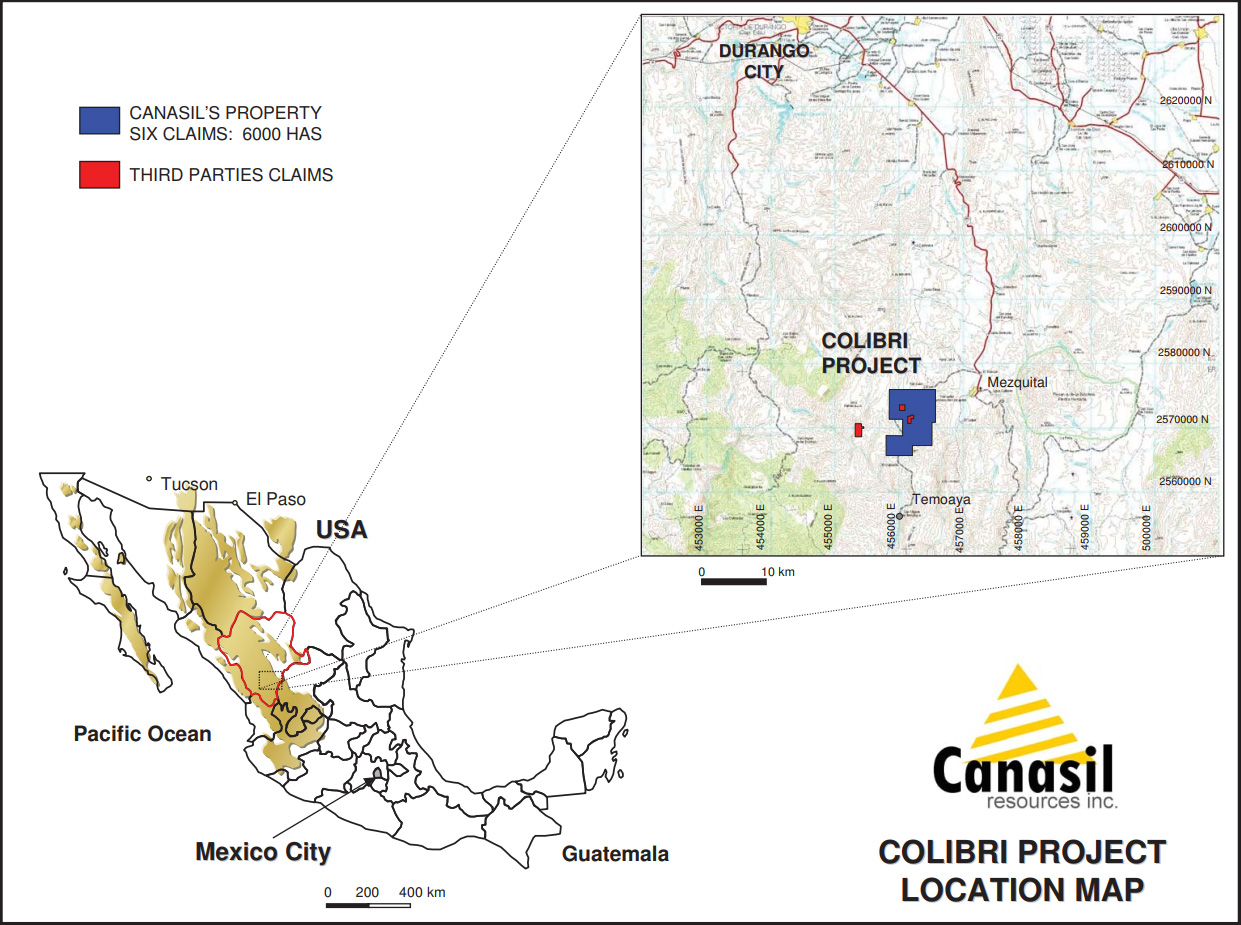 Geology
The Colibri district covered by the claims is on the eastern border of Sierra Madre Occidental volcanic province and hosts prospects of epithermal-mesothermal vein type mineralization carrying silver, copper, lead, zinc and gold.
The geology of the area consists of Lower Volcanic Group Eocene andesites and scarce intercalated rhyolites. These units are overlain by Upper Volcanic Group Oligocene rhyolitic tuffs and ignimbrites. The Lower Volcanic Group formations are intruded by granodiorites and diorites. Mineralized structures are observed in the project area, occurring in epithermal to mesothermal fault-controlled veins with silver sulphides, and lead and zinc minerals.
Drilling
The Company completed 18 diamond drill holes for a total of 2,630 m at the Colibri project in late 2006 and 2007. The program tested the Los Angeles, Jessica and Linda veins to a depth of approximately 100 m to 150 m. The program returned mineralized intercepts from the Linda vein containing copper, silver and zinc, and a higher level intercept containing gold, silver and cobalt (see figure below).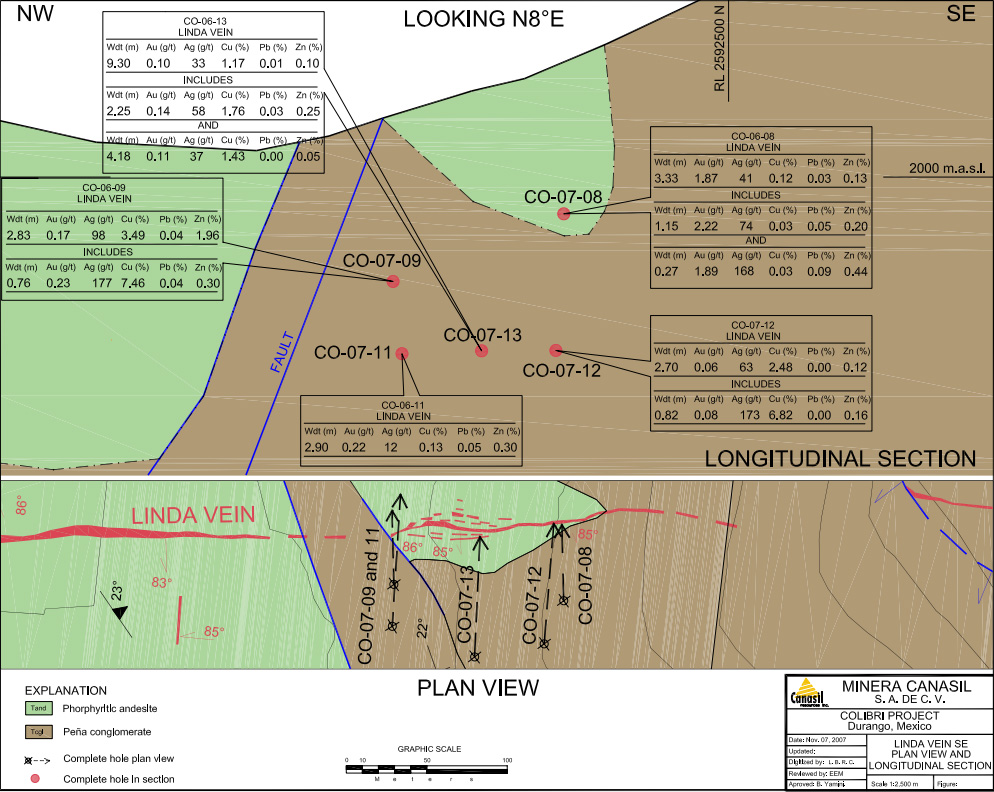 In 2008, the Company completed a further 16 diamond drill holes for a total of 1,539 m in the southwestern area of the Colibri project. The program returned silver, zinc and lead mineralized intercepts from the Claudia vein.
Exploration
Geological mapping and surface sampling programs were carried out in 2006 and 2007. Systematic surface and channel sampling identified mineralized veins and structures including the Los Angeles, Linda, and Jessica veins. The sampling program returned significant silver, zinc, copper and lead values with gold credits (see maps below). The style and extent of the multiple mineralized structures show potential for a large mineralized system.