Brenda Gold-Copper Project
100% in 4,450 hectares
Significant gold-copper porphyry mineralization intersected at the White Pass zone
2021 geological model outlines a Mineralized Zone (MZ) characterized by drill intercepts of >0.1 g/t Au with approximate dimensions of 1,000m by 400m and from 100-600m thick. A Higher Grade Zone (HGZ) of >0.4 g/t Au has estimated dimensions of 200m by 300m and 150m thick. These zones and the geological model are not part of any resource estimate.
Additional copper-gold targets identified NE, SE, SW and E of the MZ
Drilling highlights

39.95 metres of 1.12 g/t Au and 0.18% Cu (DDH-97-2)
161.6 metres of 0.565 g/t Au and 0.079% Cu (BR-03-07)
57.96 metres of 0.707 g/t Au and 0.119% Cu (BR-07-04)
78.03 metres of 0.610 g/t Au and 0.104% Cu (BR-07-05)
68.00 metres of 0.376 g/t Au and 0.0735% Cu (BR-13-01)

Exploration completed to date: geochemical surveys, satellite, airborne and ground geophysical surveys, and over 12,000 metres of diamond drilling in 65 drill holes
Excellent road access and infrastructure close to past producing Kemess South mine
Location
The Brenda project is in the Omineca Mining Division approximately 270 km N of Smithers and 450 km NW of Prince George in north-central British Columbia. The project is located 15 km NW of Centerra Gold Kemess Underground (KUG) & Kemess East Deposits, and 20 km NW of the past producing Kemess South Mine. The property has excellent road access from Prince George by way of the Omineca Resource Access Road and logging roads, with direct road access onto the property. The Kemess mine airfield is located approximately one hour drive from the property, and the Sturdee Valley airstrip is located 21 km west of the property. The terrain in the project area is moderate with the porphyry target zone at an elevation of 1,600 m.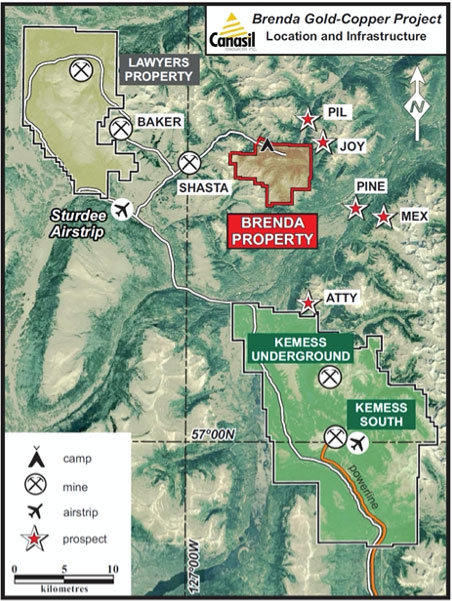 Geology
The Brenda property is in the Toodoggone-Kemess porphyry copper-gold and epithermal gold district, situated within a Mesozoic volcanic arc assemblage within the Stikine trend along the eastern margin of the Intermontane Belt, a northwesterly trending belt of Paleozoic to Tertiary sedimentary, volcanic and intrusive rocks.
The project area is underlain by basaltic volcanic rocks of the Upper Triassic Takla Group, andesitic, latitic and dacitic volcanic stratigraphy of the Lower to Middle Jurassic Toodoggone Formation (Hazelton Group) and monzonitic plutons, dykes and sills of the Black Lake suite that are co-magmatic with the Toodoggone Formation. Numerous precious metal-bearing epithermal type vein deposits and deeper-seated porphyry gold-copper deposits are associated with this magmatic event.
Low sulphidation epithermal gold-silver mineralization and gold-copper porphyry mineralization are recognized on the project with past exploration at the EB, Takla, Creek and White Pass zones. The White Pass zone has been the focus of exploration since 1993. It is an important gold-copper-silver porphyry prospect that is characterized by a strong colour anomaly caused by pervasive argillic and phyllic alteration of exposed volcanic rocks, a broad gold-copper-silver soil geochemical anomaly, and high chargeability and magnetic anomalies. The EB and nearby Takla zones are vein occurrences in the western part of the project and the Creek zone is a gold-copper porphyry prospect that occurs near the northern boundary of the project.
Three types of dykes are recognized on the Project. They are generally from a few metres to tens of metres wide. From oldest to youngest they are i) quartz monzonite that appear to be syn- to late mineralization intrusions, ii) hornblende feldspar porphyry (or monzonite/quartz monzonite), the most common type of dyke on the Project; in the White Pass area the dykes trend dominantly northwest to north-northwest, and iii) syenite/monzonite. Limited petrographic data show the rocks to range from diorite to quartz monzonite, and suggest high-K calc-alkalic affinity similar to the nearby Kemess deposits.
A comprehensive technical review in 2020/21 concluded that the Brenda project is a Cu-Au±Mo porphyry system with potentially elevated gold and copper grades due to reactive intermediate to mafic host rocks cut by high-K calc-alkalic intrusions similar to those at important porphyry deposits worldwide.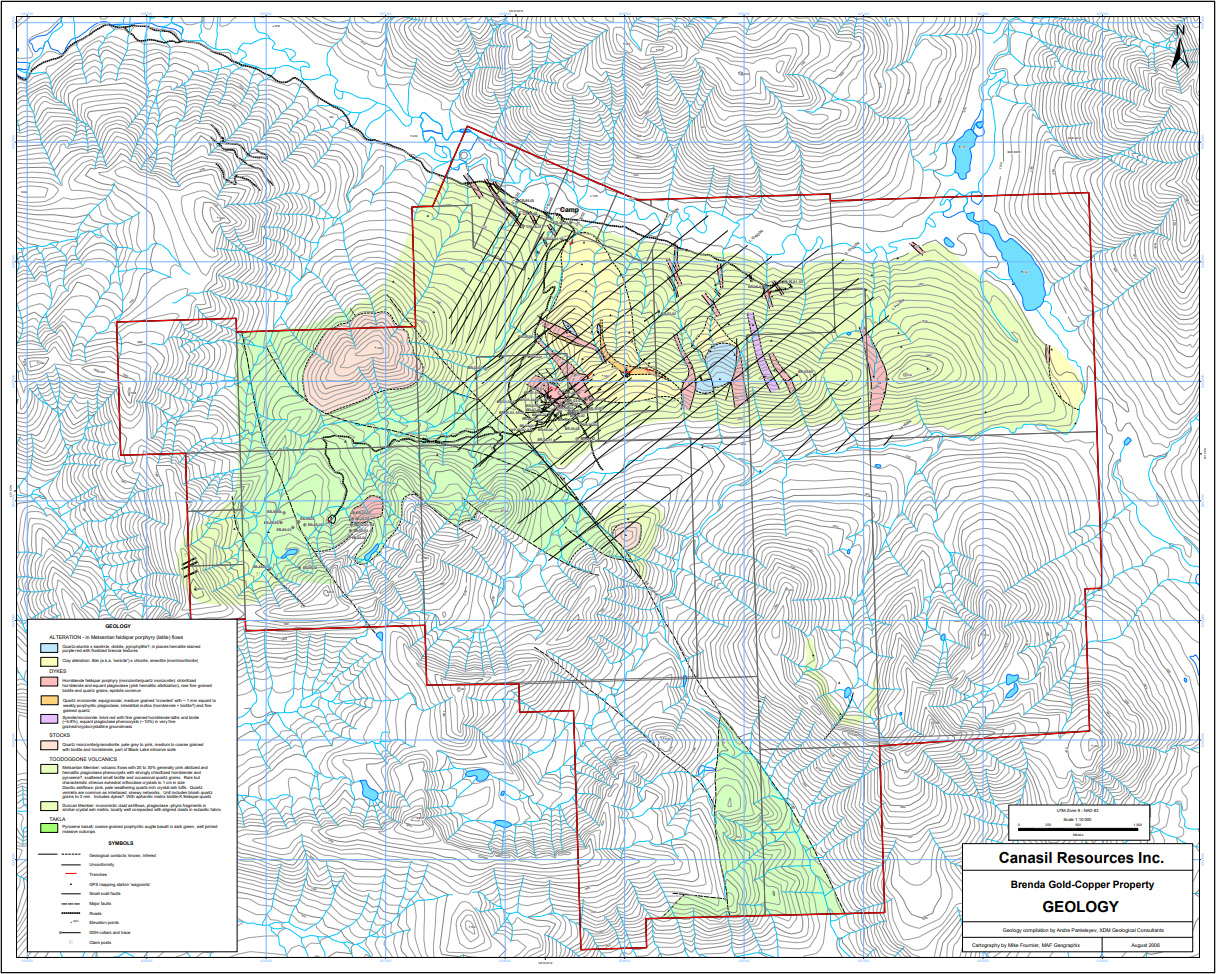 Brenda project geology
2020/21 Geological Modeling
The 2020/21 geological model and the defined zones below are not part of any resource estimate. Results of the comprehensive data review and geological modelling were presented in an Updated Technical Report issued on February 03, 2021:
"NI 43-101 Technical Report on the Brenda Gold-Copper Project" dated February 03, 2021 (the "Technical Report"). Technical Report was prepared for Canasil by Robert A. (Bob) Lane, M.Sc., P. Geo., of Plateau Minerals Corp. Mr. Lane is a Qualified Person as defined under National Instrument 43-101 of the Canadian Securities Administrators - Standards of Disclosure for Mineral Projects.
February 3, 2021
NI 43-101 Technical Report on the Brenda Gold-Copper Project
September 12, 2017
NI 43-101 Technical Report on the Brenda Gold-Copper Project
Surface geochemistry, geophysical survey and drill data was used to create a geological model for the White Pass zone and identify priority targets for continued drilling. The model outlines a Mineralized Zone (MZ) characterized by drill intercepts of >0.1 g/t Au with approximate dimensions of 1,000m by 400m and from 100-600m thick. A Higher Grade Zone (HGZ) of >0.4 g/t Au has estimated dimensions of 200m by 300m and 150m thick.
Targeting based on analysis of drilling and soil geochemical data, based on surface and downhole geochemical analysis using the porphyry elemental zoning model of Halley et al. (2015)1, and applying the MDRU Porphyry Index or MPIx (Bouzari et al., 2019)2, was used to vector towards higher grade Cu-Au mineralization. These studies confirmed the project's potential for hosting a large gold-copper mineralized system and identified multiple targets for additional copper-gold mineralization to the NE, SE, SW and E of the MZ. Multiple chargeability anomalies, just below the current shapes for the MZ and HGZ and to the NE and SW, as well as Au and Cu soil anomalies to the SE and E have not been drill tested and are recommended for future exploration and drilling (see maps below).
The modelling also identified several gaps between mineralized intervals from past drilling. Targeted infill drilling may connect some of the existing higher-grade intervals thereby expanding the dimensions of the HGZ.
1 Halley, S., Dilles, J.H., and Tosdal, R.M., 2015, Footprints: Hydrothermal alteration and geochemical dispersion around porphyry copper deposits: SEG Newsletter, no. 100, p. 1, 12-17.
2 Bouzari, F., Bissig, T., Hart, C.J.R., and Leal-Meija, H., 2019, An exploration framework for porphyry to epithermal transitions in the Toodoggone mineral district (94E): Geoscience BC Report 2019-18, 105 p.
Drilling
A total of 65 surface exploration diamond drill holes with an aggregate length of 12,067 m have been completed on the project testing multiple targets.
The White Pass zone was tested by 41 drill holes (10,034 m). The drilling demonstrated that the White Pass zone mineralization occurs mainly within intermediate volcanic rocks of the Toodoggone Formation. Mineralization consists of quartz-magnetite±pyrite±chalcopyrite veinlets, sheeted veinlets and stockwork zones and, locally-disseminated magnetite and pyrite within zones of strong phyllic and weak to moderate potassic alteration. Highlights from these holes include:
39.95 metres of 1.12 g/t Au and 0.18% Cu (DDH-97-2)
161.6 metres of 0.565 g/t Au and 0.079% Cu (BR-03-07)
57.96 metres of 0.707 g/t Au and 0.119% Cu (BR-07-04)
78.03 metres of 0.610 g/t Au and 0.104% Cu (BR-07-05)
68.00 metres of 0.376 g/t Au and 0.0735% Cu (BR-13-01)
Selected significant drill intercepts to date are presented in the table below: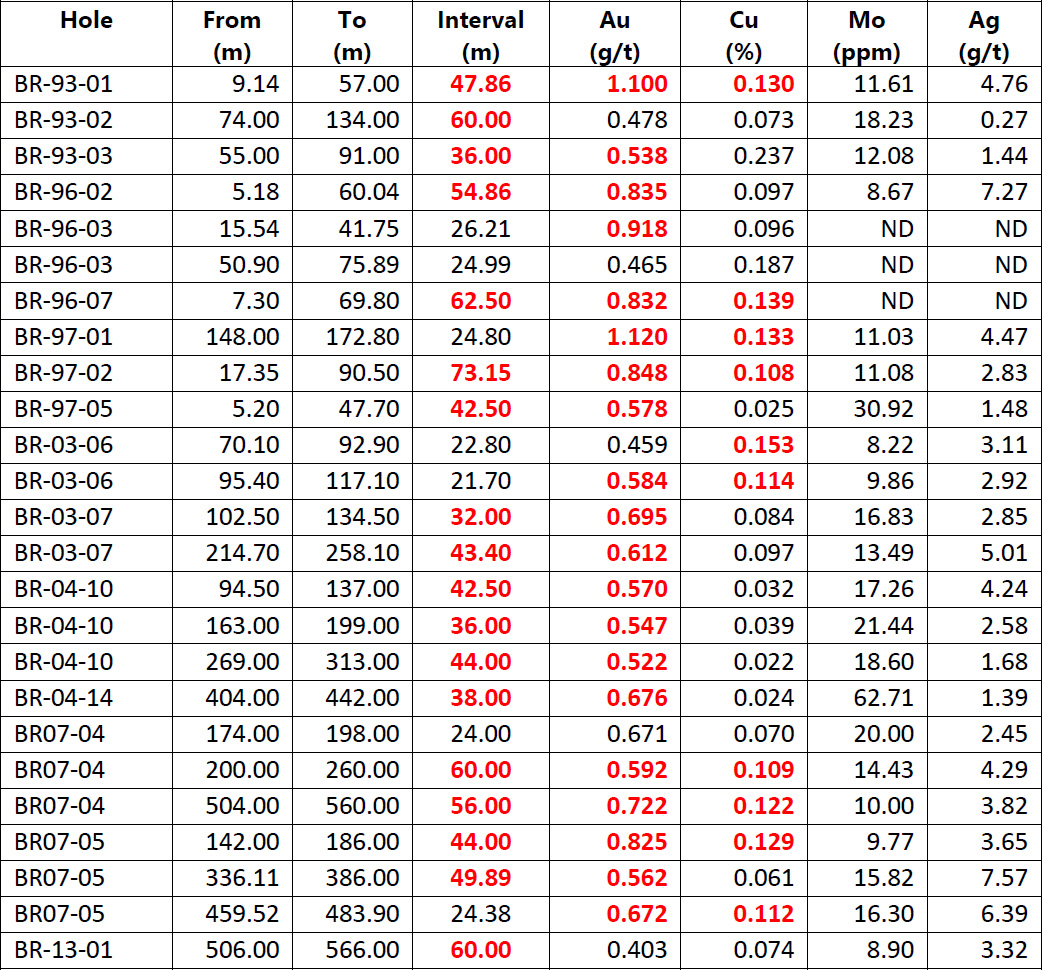 Exploration
Comprehensive exploration programs have been completed on the Brenda project including surface sampling and geological mapping, airborne and ground geophysical surveys, satellite imaging, petrographic analysis, and 12,000 m of drilling in 65 drill holes.